Picture rail is a very durable way of hanging pictures, art, mirrors, quilts and other kinds of wall decoration. Picture rails are available in many different kinds of materials, shapes, colors and sizes. They even come with integrated picture lighting these days. Each picture rail has its own unique features. What they do all have in common is that they can be mounted on any type of wall, they can be sanded and painted in your color of choice and they provide you with the possibility to flexibly hang your pictures without having to damage your walls!
What is a picture rail?
Picture rail is the safe, flexible and durable picture hanging solution for hanging art, pictures, mirrors, quilts, a complete gallery wall and other wall decoration. The idea of a picture rail is to avoid any damage to your wall when you want to hang your wall decoration by using picture rail wire and picture rail hooks. Old traditional homes might have a picture rail or picture rail molding as this was more common earlier days. However, the picture hanging rail has made a true comeback and can be bought from your favorite picture hanging specialist: STAS picture hanging systems.

We love the traditional wooden picture rail but we also developed picture hanging rail systems in modern styles. Whether you choose for a traditional gallery hanging system or a modern picture hanging system, you'll be able to rearrange your pictures and art without tools and without wall damage!
Types of picture rail systems
Choose your picture rail type below:
Traditional picture rail molding
The picture rail is an old invention. In most cases, this functional molding was made of wood, installed just below the ceiling. It is most commonly seen in traditional homes with plaster walls. Hammering nails into the plasterwork will damage the wall. Instead of using nails, pictures can be suspended from the picture rail hanging system by using a wire and a picture rail hook. Rearranging the pictures is as simple as moving the hooks around.
STAS offers the following products for a traditional picture rail look:
1. Molding hooks in white, silver or gold
2. Perlon cords or steel cables to hang from the molding hook
3. Picture hooks to slide over your cord or cable: hang your pictures securely with STAS zipper or STAS smartspring
4. STAS offers 2 types of wooden picture rail: the STAS windsor and STAS riva
Combining a traditional picture rail molding hook with a perlon cord and a STAS picture hook is the safest and most flexible way to hang your pictures from a wooden picture rail hanging system.
---
Modern picture rail hanging system
If you prefer a more modern look, you're in the right place! Our webshop offers a modern alternative to the traditional picture rail. Our picture hanging systems are very small, sleek and elegant. A gallery rail hanging system, perhaps even with picture rail lighting, is perfect for modern home interiors, offices, museums and galleries.

The functionality is exactly the same as the traditional, old fashioned picture rail: to hang pictures with wire and picture rail hooks. This makes it easy to adjust, rearrange and add picture frames without using any tools or nails!
---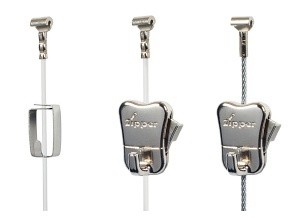 Modern picture rail hooks
We offer modern versions of matching picture rail hooks as well. The patented STAS zipper and STAS smartspring picture hooks are designed to support heavy picture frames.


Order your picture hanging system here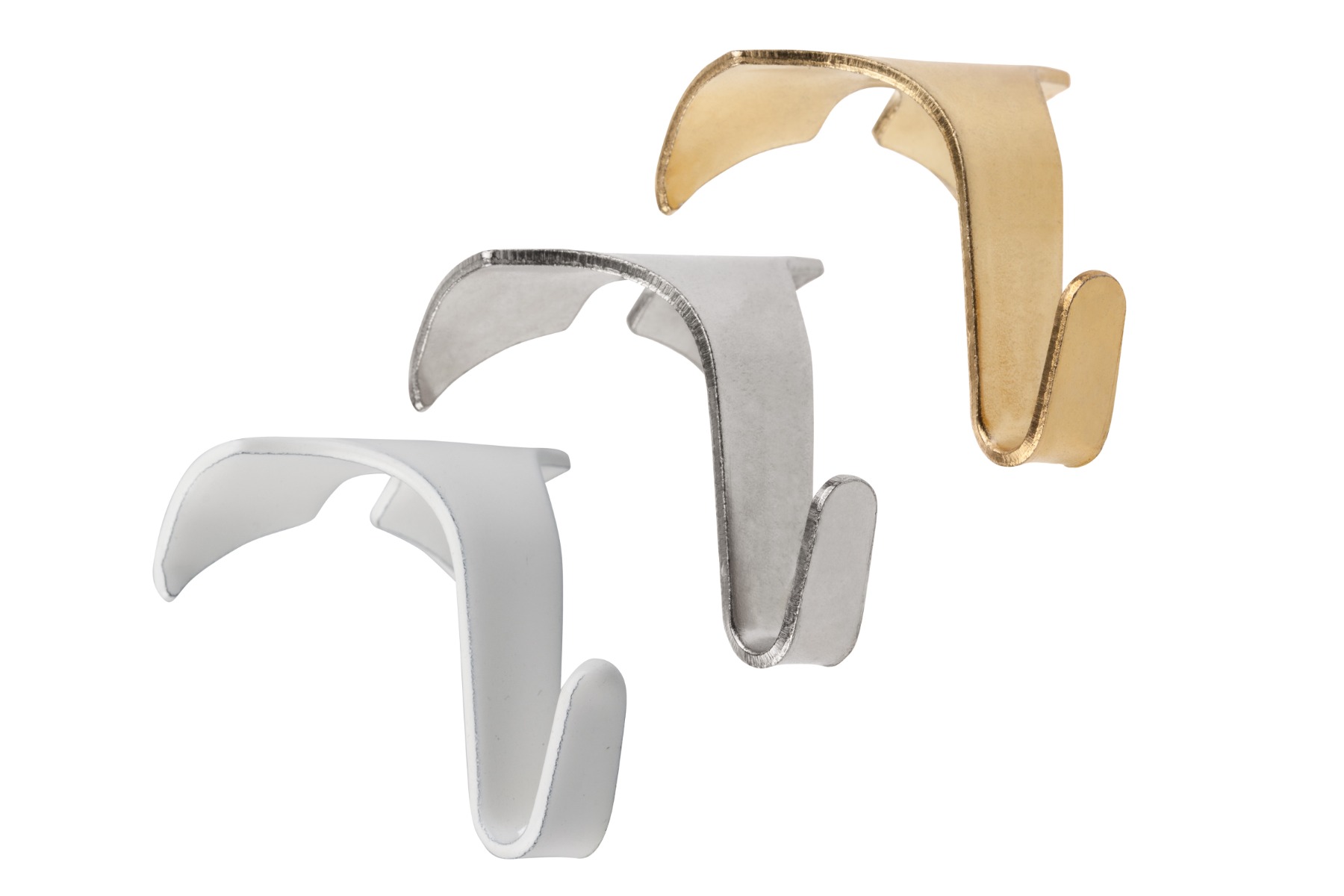 Decorative picture hangers
Picture rails have always been used for its decorative aspects as well. All kinds of decorated picture rail hooks have been made throughout the years. These picture hangers are also available in matching Victorian style and their appearance is very, very traditional.
Shop your picture hangers here
---
How to use a picture rail
A picture rail is easy and quick to use. All you need is a picture rail, a molding hook if you have traditional picture rail, and picture rail hooks and cords.

For traditional picture rail you place a molding hook over the rail, place a cable with loop over the molding hook and slide a picture hanging hook over the cord to the desired height to hang your picture.

For modern picture rail you hook a perlon cord or steelcable in the picture rail and you slide a picture hanging hook over the cord to the desired height to hang your artwork.

The molding hooks and picture hanging cords/cables can be placed anywhere on top of the traditional picture rail and in the modern picture rail so you can change the placement of your pictures. Moreover, you can easily change the height of your pictures by adjusting the picture hanging hooks!
---
Benefits of a picture rail hanging System
There are many benefits when using a picture rail hanging system.

1. Once the picture rail is installed, you'll NEVER need to drill or make any damage to your wall whenever you want to hang your pictures.
2. Enjoy the flexibility of a picture rail and change or rearrange your wall decoration depending on your mood or change of interior style!
3. No more doubting yourself over the right position when hanging your artwork (it's OK to reconsider or make a mistake!).
4. No more dust, mess, tools and ALL the hassle that comes with hanging your pictures.
---
Buy your picture rail at STAS
Order your picture rail of choice at STAS; the picture hanging specialist! Simply place your order online in our webshop or call us if you need any assistance. We ship within the USA free of charge for orders over $175 and free of charge to Canada for orders over $345 CAD. Orders typically ship out within 48 hours and arrive within 1 to 7 business days after shipment. All orders, regardless of size, are covered by a 30-day return policy. To return an order, e-mail us at [email protected].