STAS user tips to prevent tilting, leaning or floating pictures and artwork
A STAS picture hanging system enables you to hang multiple frames on your picture rail. When you use items that vary in size, weight and framing materials (the hanging wire attached to the frame), you might stumble upon a bit of a problem; your carefully chosen display layout has become the victim of leaning, tilting or floating pictures. At STAS we developed several simple tactics to solve tilting, leaning or floating wall decoration without having to compromise on your choice regarding pictures, frames or layout.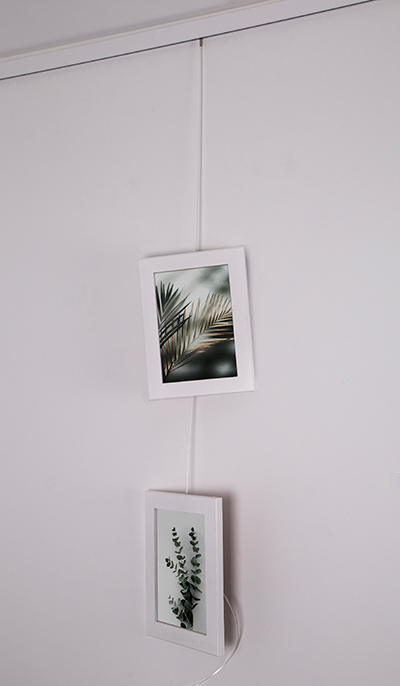 Tip 1: Use two cords instead of one
When you want to display items that differ in size and weight, tilting might occur. To solve the tilting issue we would advise to use two cords instead of one to hang a group of pictures that include at least one larger picture. Keep in mind that when you use two cords, you'll also need two picture hooks and two hooks on the back of the frame (or hanging wire) for the larger picture.
Tip 2: Adjust the fixpoint
Are you still not happy with the end result? The solution might be to adjust the fixpoint on the back of the frame(s). A fixpoint too low might result in a leaning or tilting picture. Remove the fixpoint and replace it at the top of the frame. Do you think that you need a different kind of fixpoint? No worries. We offer various picture hanging hardware so there's a solution for every frame.
➔
You place STAS spacers on the back of your frames so that they are positioned at a perfect distance from the wall. They are self-adhesive and made of soft material so that you won't damage your wall.
Tip 4: Remove or wrap excess cable(s)
You'll most likely end up with excess cable hanging below the lowest piece of artwork. You can remove the excess (perlon) cord with scissors or a knife, but you could also choose to coil up the steel cable and perlon cord. Coil up the cable, wrap the end around itself to keep it tight (or use a cable tie) and place the coils behind the lowest piece of artwork. No visible excess cable gives your display a more neat finish (and even helps to diminish the leaning problem!).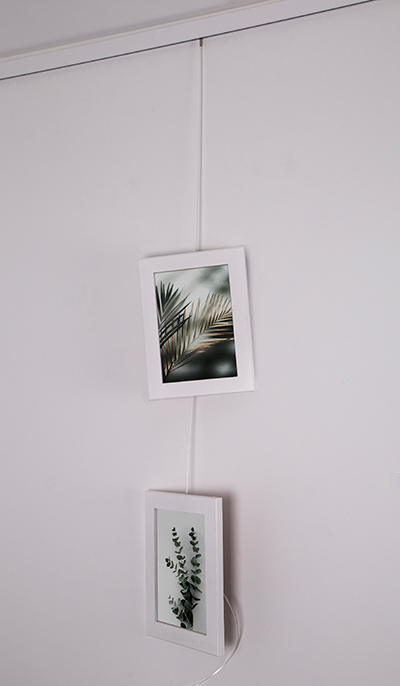 ➔